50 Muslim Recipes: A Halal Cookbook for making meals Islam Friendly and Tasty With Pictures
A free trial credit cannot be used on this title.
Unabridged Audiobook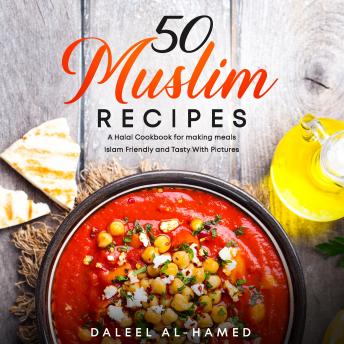 Duration:
1 hours 10 minutes
Summary:
Are you looking for a fresh way to mix up your diet to make it fresh and colorful? Recipes that will be like nothing before and will bring a smile to your face? Well, you have found just the right books where you will find a ton of fun and unique recipes to try that you will love.

Our brand new '50 Muslim Recipes Cookbook' is a brand new way to venture into the world of healthy eating, it features a vast variety of different recipes that range in ingredients and preparing methods.

Inside you will find over 50 recipes that range, some will be delicious halal recipes that will bring a smile to your face, and others will be delicate vegetarian meals that will boost your self well-being, all in all, this cookbook provides an experience like no other with cooking!

This book is specifically aimed at Muslims, who want to try new recipes and make their diet more exciting, Muslims who want to share their recipes with fellow friends and family, or who cook for their neighbors, and Muslim believers who want to take their health to the next level with an advanced diet scheme of healthy, nutritional and delicious food!

This book comes in an e-book format and a 6' x 9' size paperback format, perfect for quick handling and perfect for following recipes. So what are you waiting for?

GET COOKING!
Genres: