The 5th Wave (Book 1)
Unabridged Audiobook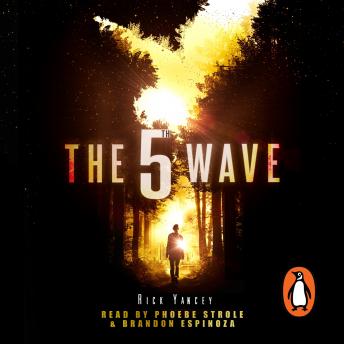 Duration:
12 hours 42 minutes
Summary:
*NOW A MAJOR FILM by Sony Pictures, starring Chloe Grace Moretz*

'Wildly entertaining . . . I couldn't turn the pages fast enough' The New York Times

*The 5th Wave is the first book in the bestselling series from award-winning Rick Yancey. Perfect for fans of The Hunger Games, Divergent and Maze Runner*

After the1st wave, only darkness remains. After the 2nd, only the lucky escape. And after the 3rd, only the unlucky survive. After 4th wave, only one rule applies: trust no one.

NOW IS THE DAWN OF THE 5TH WAVE

On a lonely stretch of highway, Cassie runs.
Runs from the beings that only look human, who have scattered Earth's last survivors.

To stay alone is to stay alive, until she meets Evan Walker. Beguiling and mysterious, Evan may be her only hope.

Now Cassie must choose: between trust and despair, between defiance and surrender, between life and death.

www.rickyancey.com

'Remarkable, not-to-be-missed-under-any-circumstances' Entertainment Weekly

'A modern sci-fi masterpiece . . . Should do for aliens what Twilight did for vampires.' USA Today

'The pace is relentless' Heat

'Chilling' Sun

'Nothing short of amazing' Kirkus (starred review)

'This book's scary!' Teen Now (5 starred review)

'A twisty survival story that borrows elements from romance, horror and dystopian fiction' Wall Street Journal

'An epic sci-fi adventure about a terrifying alien invasion. You'll read it in one sitting' Bookseller

'Heartfelt, violent, paranoid epic, filled with big heroics and bigger surprises' Booklist (starred review)

'Gripping' Publishers Weekly

'Borrow this one from your teen's nightstand while they're at school.' People Magazine

*Winner of the 2014 Red House Children's Book Award
*2014 Children's Choice Book Awards Finalist for Teen Book of the Year
*A YALSA 2014 Best Fiction for Young Adults
*A YALSA 2014 Quick Picks for Reluctant Young Readers
*A Booklist 2014 Best Fiction for Young Adults
*A VOYA 2013 Perfect Ten
*An Amazon Best Book of the Year

Books in the series:
The 5th Wave (Book 1)
The Infinite Sea (Book 2)
The Last Star (Book 3)
Genres:
2 of 2 people found this review helpful.