A Galaxy Trilogy, Vol. 1: Star Ways, Druids' World, and The Day the World Stopped
Unabridged Audiobook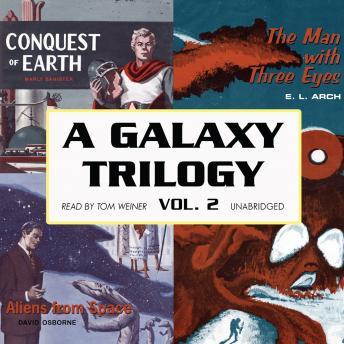 Duration:
13 hours 35 minutes
Summary:
Before Star Trek or Gene Roddenberry and before Star Wars and George Lucas, the science fiction writers of the 1950s and 1960s were writing some of the hippest genre literature of the era. Here are three imaginative novellas from some of these pioneers of pulp science fiction.
Star Ways by Poul Anderson is an action-packed saga of the Nomads, space gypsies voyaging endlessly through the cosmos, and of Joachin of the starship Peregrine, who must act as both bait and trap for the deadliest foe the Nomads had ever known.
In George Henry Smith's Druids' World, a fantasy of a crumbling civilization with ties to King Arthur's era, a strong leader, Adam Max McBride, faces off with both a corrupt ruling class and horrible nonliving polymorphs in a battle to save the homeland.
In The Day the World Stopped by Stanton A. Coblentz, a US president and his advisors plan to use the ultimate weapon in "preventive war" against Red China, while a young senator who tries to avert the calamity gets unexpected help from space visitors who offer him the use of their special powers.
Genres: