A Helluva High Note: Surviving Life, Love, and American Idol
Unabridged Audiobook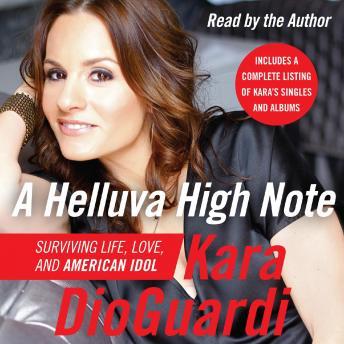 Duration:
6 hours 8 minutes
Summary:
Kara DioGuardi is an award-winning hitmaker, a savvy record executive, and a successful music publisher whose songs have been recorded by such superstars as Pink, Carrie Underwood, Britney Spears, Christina Aguilera, Kelly Clarkson, Gwen Stefani, Santana, Steven Tyler, C'line Dion, and so many others. She was also the feisty fourth judge on American Idol. But success wouldn't have happened for this songwriter, artist, and producer without the dark times of defeat. Filled with the grace, raw honesty, and haunting emotion of her hit songs, A Helluva High Note is the soundtrack to Kara's life'an intimate anthem about living, creating, loving, stumbling, picking herself up again, and ultimately succeeding. It is a moving chronicle of the experiences that have inspired her songs and given her the resilience and perspective to become the confidant, accomplished, adventurous warrior she is today.

Kara not only writes about what it was like to collaborate with some of our favorite performing artists, she also opens up about everything from her struggles with debilitating stage fright and an equally paralyzing eating disorder, to the most devastating yet profoundly life-altering experience'caring for her mother during her fatal battle with cancer. And, of course, she shares behind-the-scenes stories from her years on American Idol and the real truth about her departure from the show.

A Helluva High Note is filled with memorable and inspirational tales from the heart and trenches of life, business, and the world of entertainment. Passionate, wise, funny, and down-to-earth, it proves that finding, cultivating, and following your own true voice really is possible.
Genres: