Aalok Akasher Maa : MyStoryGenie Bengali Audiobook 22: Survival of the Idealists
A free trial credit cannot be used on this title.
Unabridged Audiobook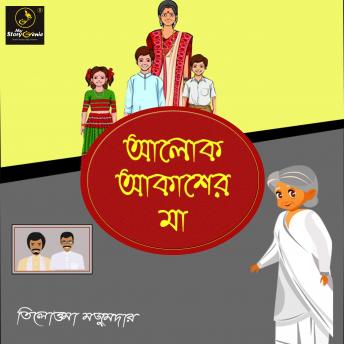 Duration:
0 hours 33 minutes
Language:
Bengali
Summary:
Aalok and Akash – the idealist sons of Dr. Anadarup and Ms. Bani, got consumed in the fire of student agitation centered around the utopian ideals of the Naxal uprising against capitalist exploitation of resources and the associated income divides of the early '70s. Two brilliant and sensitive young minds that cared about the impoverished and the marginalized, atypical of the movement, was lost to the nation, leaving their parents in a time loop of despair and memories. The parents could never accept the hard reality that while selfless championing of cause-driven ideologies exacted a heavy price from the afflicted individuals, the world nonchalantly moved on without batting an eye-lid and kept benefiting from self-indulgence and prosperity post the systemic cleansing. Dr. Anandarup became a recluse within few years and died impoverished, leaving behind his wife Bani and daughter Averi in penury.

Averi grew up as any other regular child, with practical materialistic considerations and self aspirations like the rest in her generation, in complete contrast to her sibling ideologies that she felt misplaced, dystopian, and hopelessly idealist. She got married, started her own family, and started rallying around her mother to help her get over her self-consuming vortex of grief by constantly coaxing her to forget about her idealist sons. Averi unabashedly maintained that her brothers were irresponsible and misguided lose canons in self-obsessed parlance. 

Will the legacy of the idealists become irrelevant in this new age of self-indulgent society, or will these forgotten chapters from history continue to infuse inspiration to many more such uprisings throughout the time-space continuum?? Tune in to the thought-provoking soulful audio narrative on social order over time from MyStoryGenie Bengali Audiobooks.
Genres: