ADHD Parenting: Raising an Explosive Child: The Secret Strategies of Positive Parenting to Overcome Stress and Thrive with ADHD Unleashing Your Child's Potential
A free trial credit cannot be used on this title.
Unabridged Audiobook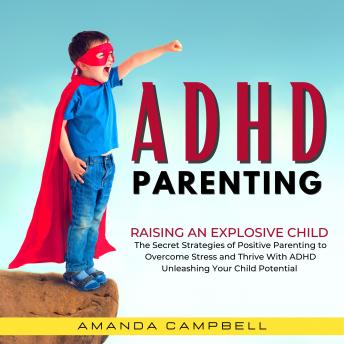 Duration:
2 hours 48 minutes
Summary:
Would you like to discover how to behave with your ADHD child? If you are struggling with the situations at home and school that your ADHD child faces every day, then keep reading...

ADHD has a significant impact on the management of daily life for the entire family. The difficulties children face with ADHD, and their families can affect the quality of life and relationships, often causing stress and worry.

Some parents struggle to accept their child's ADHD diagnosis. They often feel guilty or unable to act correctly, especially if they have already tried unsuccessful techniques or read books that trivially deal with ADHD. 

If it does, then the information inside this audiobook is the answer for you. You'll finally be guided through the journey to unleash the potential of your child, becoming the next SUCCESS STORY.

You will learn:


- Understanding ADHD - How to identify symptoms and causes to accept and embrace the disorder 
- How to focus on your child's strengths and plan a successful treatment following the proper guidelines
- The Multimodal Approach: is the best way?
- Proven pedagogical techniques to improve self-control, self-esteem, and social skills
- Homework help strategies that will make your life easier at home
- How to build consistent daily routines
- Top funny and educational games for ADHD children
- and much, much more!


Although managing a child with ADHD is no easy, thanks to this audiobook of practical, easy-to-understand advice, the disorder can be dealt with efficiently.

Being an aware parent/teacher will help you control frustration and handle daily situations better.

Are you ready to improve your family life? Don't waste time and click the "Buy Now" button!
Genres: