Adult Education - A collection of four erotic stories
Abridged Audiobook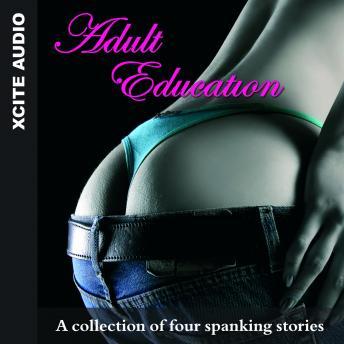 Duration:
0 hours 59 minutes
Summary:
A collection of four erotic stories with varied spanking themes.

Adult Education ' Elizabeth Coldwell
A life-long good girl, Amanda finally decides to rebel when she struggles with an adult maths class. Behaving in a way to make even the most rebellious teenager blush it's only a matter of time before her teacher Andy has to take measures to discipline her.

Victoria Pleases her Headmistress ' Angela Meadows
Victoria is summoned to see Madame Thackeray, the headmistress of the Venus School for Young Ladies where a broad education is dispensed to the pupils. Her most recent assignment was not entirely successful and so she has to face her punishment which is an education in itself.

Noisy Neighbours ' Teresa Joseph
Being the building manager for a university dorm turned out to be more of a challenge than John realised. The girls in the all-female accommodation had no respect for hard-working folk like himself who wanted to sleep at night. After a month of torment he decides to take control and give the girls the well-deserved disciplining they need.

A Taste of Punishment ' DMW Carol
Taking my online flirtation with the luscious Nick was something I'd been looking forward to for a long time. But he was going to have to learn that I'm always going to be the one in charge and a nice firm spanking was top of my list for dessert.
Genres: