All of These People: A Memoir
Abridged Audiobook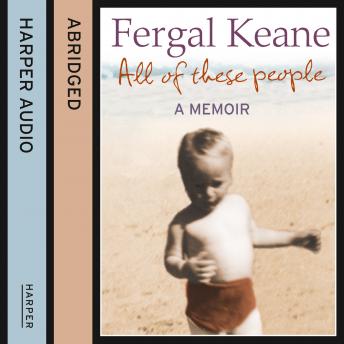 Duration:
5 hours 45 minutes
Summary:
In a memoir of staggering power and candour, award-winning journalist Fergal Keane addresses his experience of wars of different kinds, some very public and others acutely personal.


During his years of reporting from the world's most savage and turbulent regions, Fergal Keane has witnessed the violence of the South African townships and the terror in Rwanda, the most extreme kinds of human behaviour, the horror of genocide and the bravery of peacekeepers faced with overwhelming odds. As one of the BBC's leading correspondents, he recounts extraordinary encounters on the front lines. Alongside his often brutal experiences in the field, he also describes unflinchingly the challenges and demons he has faced in his personal life growing up in Ireland.


Keane's existence as a war reporter is all that we imagine: frantic filing of reports and dodging shells, interspersed with rest in bombed-out hotels and concrete shelters. Life in such vulnerable areas of the globe is emotionally draining, but full of astonishing moments of camaraderie and human bravery. And so this is also a memoir of the human connections, at once simple and complex, that are made in extreme circumstances. These pages are filled with the memories of remarkable people. At the heart of Fergal Keane's story is a descent into and recovery from alcoholism, spanning two generations, father and son; a different kind of war, but as much part of the journey of the last 25 years as the bullets and bombs.
Genres: