All Right on the Night - A collection of four erotic stories
Unabridged Audiobook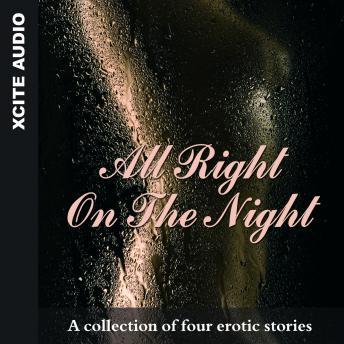 Duration:
1 hours 14 minutes
Summary:
A collection of four erotic stories with mixed and varied themes including BDSM, FF action, spanking and historical.

All Right On The Night by Jo Nation

George's bathroom is a temptation; as befits such a modern minimalist apartment this is more wet room than traditional haven of relaxation, but for a few minutes Fenella forgets her duties. The decision to drop her guard will prove a fateful one; in a short space of time she will understand both the nature of George's identity and the meaning of pain.

Web of Desire by Emily Dubberley

An arrogant movie producer thinks that his life is completely under control and, with money, power and young actresses queuing up to lie on his casting couch, most of his colleagues would agree with him. Yet, as the saying goes, pride comes before a fall....

The Silken Web by Virginia Beech

Clarence has a taste for the finer things in life but, as a humble valet to the beautiful but formidable Lady Jessica Cleveland, he has had to learn to hide his interest in her fine underwear. Already he has been dismissed from his former post with another noble family because of an unfortunate incident with a pair of sillken knickers, yet Clarence still struggles to control his base instincts when faced with such finery...

Waiting for a Spanking by Shanna Germain

There's one thing about marrying a man with big hands; you can't help wondering what they'd feel like if put to good use...
Genres: