Alpha Female Bible: Identify and Eliminate Anxiety, Jealousy, Negative Thinking, Overcome Anger and Couple Conflicts. Build Your Healthy Relationship as a Real Alpha Woman
A free trial credit cannot be used on this title.
Unabridged Audiobook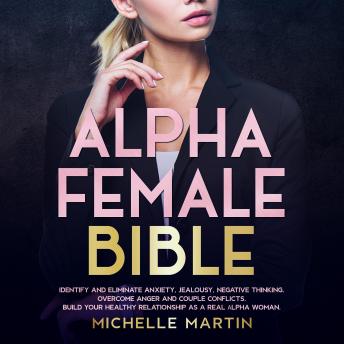 Duration:
14 hours 59 minutes
Summary:
The Ultimate Alpha Female Bible Is Here: Here's How You Can Overcome Anxiety And Strengthen Your Relationship!

Let's be honest. No woman is born with the 'Alpha Female' gene.

Being an Alpha Female is a state of mind that you can develop - even if you have never heard about 'Alpha Females' before.

Ditching old habits and building a new, improved version of yourself is not easy. It takes patience, perseverance, and laser-focused effort to achieve your goals.

But it is worth it.

Learn How To Reinvent Yourself, Build Meaningful Relationships, And Achieve Your Goals!

Michelle Martin has written a must-read guide for women with a single goal in mind; to offer you the tools, strategies, and methods to handle effectively and deal with anxiety, anger, or conflicts.


Top 7 Key Takeaways From This Game-Changing Alpha Female Book:

- Learn How To Better Communicate With Your Partner, SO, Friends Or Coworkers
- Understand How To Overcome Anxiety And Keep Stressful Situations From Getting Out Of Hand
- Find Out How To Deal With Jealousy, Avoid Negative Thoughts, And How To Think Positive
- Develop Your Alpha Personality And Overcome Your Fear Of Abandonment
- Manage Your Anger, Avoid Social Conflict, And Develop Your Alpha State Of Mind
- Invest In Couples Therapy And Allow Mindfulness To Improve Your Relationship
- Master The Art Of Communication In Romantic Relationships
And That's Not All!


Don't Hesitate!

Scroll Up, Click 'Buy Now,' And Invest In Yourself Today!
Genres: