And You Know You Should Be Glad
Abridged Audiobook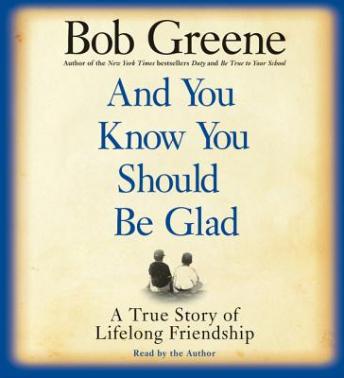 Duration:
4 hours 47 minutes
Summary:
A highly personal and moving true story of friendship and remembrance from the New York Times bestselling author of Duty and Be True to Your School.

Growing up in Bexley, Ohio, Bob Greene and his four best friends -- Allen, Chuck, Dan, and Jack -- were inseparable. Of the four, Jack was Bob's very best friend, a bond forged from the moment they met on the first day of kindergarten. They grew up together, got in trouble together, learned about life together -- and were ultimately separated by time and distance, as all adults are. But through the years Bob and Jack stayed close, holding on to the friendship that had formed years before.

Then, the fateful call came: Jack was dying. And in this hour of need, as the closest of all friends will do, Bob, Allen, Chuck, and Dan put aside the demands of their own lives, came together, and saw Jack through to the end of his journey.

Tremendously moving, funny, heart-stirring, and honest, And You Know You Should Be Glad is an uplifting exploration of the power of friendship to uphold us, sustain us, and ultimately set us free.
Genres: