Anne Rice Value Collection: The Witching Hour, Lasher, Taltos
Abridged Audiobook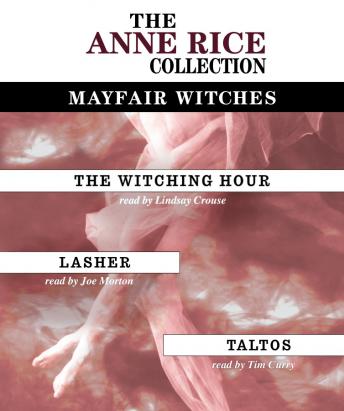 Duration:
10 hours 0 minutes
Summary:
Find here the original trilogy from Anne Rice's bestselling series about the lives of Mayfair witches...


The Witching Hour
Demonstrating once again her gift for spellbinding storytelling, Anne Rice makes real for us a great dynasty of four centuries of witches--a family given to poetry and incest, murder and philosophy, a family that over the ages is itself haunted by a powerful, dangerous, and seductive being called Lasher who haunts the Mayfair women...

Lasher
At the center of this novel: the brilliant and beautiful Rowan Mayfair, queen of the coven -- and Lasher, the darkly compelling demon whom she finds irresistible and from whose evil spell and vision she must now flee.  She takes with her their terrifying and exquisite child, one of 'a brood of children born knowing, able to stand and talk on the first day.' Rowan's attempt to escape Lasher and his pursuit of her and their child are at the heart of this extraordinary saga, moving around the globe, backward and forward through time, and between the human and demonic worlds...

Taltos
Ashlar is the last of his race--or so he thinks. When he learns that another Taltos has been seen, he is suddenly propelled into the haunting world of the Mayfair family, the New Orleans dynasty of witches forever besieged by ghosts, spirits, and their own dizzying powers. For Ashlar knows this powerful clan is intimately linked to the heritage of the Taltos. This mesmerizing novel takes us on a wondrous journey back through the centuries to a civilization half-human, of wholly mysterious origin, at odds with mortality and immortality, justice and guilt. It is an enchanted, hypnotic world that could only come from the imagination of Anne Rice...
Genres:
1 of 1 people found this review helpful.

1 of 1 people found this review helpful.