Arduino Programming: The Ultimate Guide For Making the Best of Your Arduino Programming Projects
A free trial credit cannot be used on this title.
Unabridged Audiobook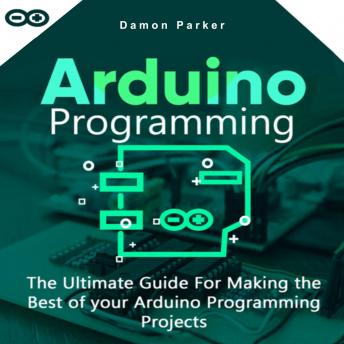 Duration:
4 hours 4 minutes
Summary:
Are you new to Arduino programming? Would you like to expand your knowledge base about Arduino programming?If you said YES to any or all of the questions above, this book is all you need!

Starting Arduino programming allows you to rapidly and intuitively develop your programming abilities through sketching in code. This book provides you with an understanding of the standard structure for developing Arduino code, including the functions, syntax, structure, and libraries needed to produce future tasks.

With this book, you can go from an Arduino beginner to an Arduino pro in a much shorter time! This is a resource book to get started with if you want to find out about the world of Arduino and how it changes the world we live in. This book will help you comprehend the basic principles of Arduino, its advantages, benefits, and applications in numerous markets and platforms. 

It teaches you everything you require to become proficient in Arduino from scratch. Learn the variants in Arduino, find out how to select Arduino boards and their technical specs, learn how to install Arduino IDE.

That's what you'll find in this audiobook:

• What Is Arduino Programming?

• Introduction to Arduino Programming Language

• How to Configure Arduino

• Arduino – Program Structure

• Arduino – Variables and Constants

• Benefits and Disadvantages of Identical Communication 

And a lot more!

This ultimate guide gets you up to speed quickly, teaching all the concepts and syntax through simple language and clear guidelines developed for outright beginners. It contains lots of top quality illustrations and easy-to-follow examples.

Grab your copy now!
Genres: