The Beechwood Harbor Magic Mysteries Boxed Set: Books 7-9
Unabridged Audiobook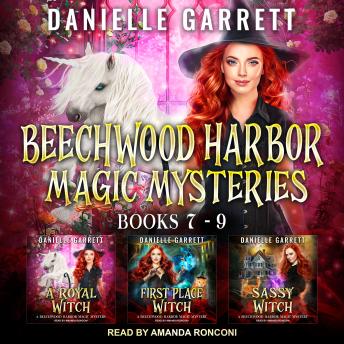 Duration:
17 hours 42 minutes
Summary:
This bundle includes books seven, eight, and nine in the Beechwood Harbor Magic Mysteries.

A Royal Witch: There are several new roommates in the Beechwood Manor, and one of them is a royal witch. When tragedy strikes, the royal's problems land at the manor's front door and it's going to take all hands on deck if the paranormal roomies hope to make it out alive.

First Place Witch: With her potions shop officially open for business, Holly sets off to the San Francisco Haven to compete with the most elite potions masters in the entire country. But what should be a fun and potentially life-changing experience quickly sours when Haven Council officials show up and start poking around Holly's workstation.

Sassy Witch: It's Valentine's Day in Beechwood Harbor and the town is rolling out the rose-colored carpet to host a group of eager singles in an effort to boost town tourism. The sleepy town is suddenly transformed into Cupid's playground, complete with chocolate fountains, bicycle's built for two, and a romantic breakfast buffet.
Genres: