Benjamin Franklin: Huge Pain in My...
Unabridged Audiobook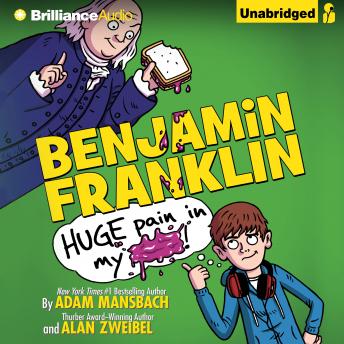 Duration:
3 hours 49 minutes
Summary:
FRANKLIN ISAAC SATURDAY HAS PROBLEMS. His name is Franklin, for one thing. His father's been relocated across the country, for another; and his mother's remarried to Dirk the Jerk. Middle school is proving to be one big weird popularity contest, and Ike doesn't know the rules-but it seems like everyone else sure does. The only bright spot in Ike's life is his beautiful and brilliant lab partner, Claire Wanzandae, his cherry blossom-scented longtime crush.

But an extra-credit assignment changes everything. The assignment is simple: write a letter to a Famous Historical Person. Ike picks Benjamin Franklin, the dude he's named after. He even steals an old-timey stamp from Dirk the Jerk's collection for "bonus authenticity." Done. An easy-peasy five points added to his history grade. Then, to make Claire laugh, Ike mails the letter…and Ben Franklin writes back! Thus begins a most unlikely friendship.

Ben's having problems with the other Founding Fathers similar to those Ike's having at school-maybe they can help each other. Or maybe Ben's wisdom will screw up Ike's life even more, and maybe Ike's advice will destroy the United States before the Declaration of Independence even gets signed. Forget being grounded and getting in with the in crowd-Ike has bigger problems now, like accidentally changing the course of history.
Genres: