Bitcoin & Cryptocurrency Trading For Beginners: Tools, Exchanges, Trading Bots And Candlestick Patterns | 2 Books In 1
A free trial credit cannot be used on this title.
Unabridged Audiobook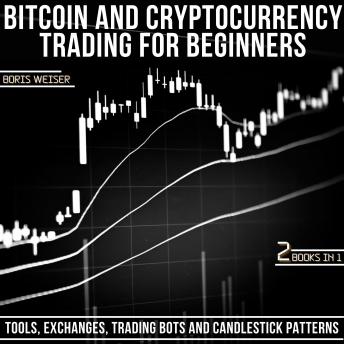 Duration:
6 hours 51 minutes
Summary:
2 AUDIOBOOKS IN 1!


- Book 1 - MUST HAVE TOOLS, BEST EXCHANGES AND TRADING STRATEGIES
- Book 2 - TRADING BOTS, CANDLESTICK PATTERNS AND TRADING PSYCHOLOGY

BUY THIS AUDIOBOOK NOW AND GET STARTED TODAY!

You will learn:

AUDIOBOOK 1:

• Market Manipulation techniques like Pump and Dump, Order book spoofing, Wash trading, Stop loss hunting and FUD. 

• Bitcoin Options, Option Theory and Option Strategies.

• How to build options strategies on Deribit and Extensive potential for Option markets. 

• Various Crypto TAX tools such as Crypto Trader TAX tool, Bear.Tax tool, Koinly and CoinTracking. 

• Trading formula mistakes such as Stop losses, Overtrading, Analysis Paralysis, Leverage issues, Bad Broker Advice, Choosing the wrong Exchange and Overconfidence. 

• Crypto Market Cycles, the Dynamics between Bitcoin and altcoins, Tokenomics, Technical Indicators and a successful Exit Strategy.

• Crypto Exchange pros and cons such as Coinbase Pro, Uniswap, Binance and FTX. 

• Leveraged Trading Strategies, BitMEX & BTC Futures. 

AUDIOBOOK 2:

• What are the most common Bullish Candlestick Patterns, Bearish Candlestick Patterns and Continuation Candlestick Patterns. 

• What is Implied Volatility, why Implied Volatility is Important and what is an Implied Volatility Rank. 

• What are the most common Trading Psychologies such as Gambler's Fallacy, Confirmation Bias, The law of Small Numbers, The Survivorship Bias, Correlation, Hindsight Bias, Recency & Attribution Bias

• How to create a Step by step checklist for a Trading Plan and how to set up a Trade Order and more…

BUY THIS AUDIOBOOK NOW AND GET STARTED TODAY!
Genres: