Blogging for Business
Unabridged Audiobook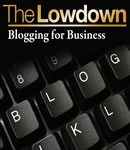 Duration:
1 hours 8 minutes
Summary:
TIPS AND TOOLS THAT WILL KEEP YOU AHEAD OF THE GAME IN CREATING AND RUNNING YOUR BUSINESS BLOG

On the internet, you never know who might become a customer. It's important to put your best foot forward when crafting an internet presence.

This guide is for anyone who wants to create a business blog, or who wants top tips to grow the readership of an existing blog. 'Blogging for Business' provides strategies for extending your reach online and distributing your content better.

If you want to build your brand online, get better exposure, and make your business stand out from the rest, this is the title for you.

Topics covered include:

The importance of blogging
How to craft the best content
Finding the free online services and tools that can give you a competitive advantage
Finding out who is visiting your blog and why
Building a relationship with your visitors
Blogging netiquette
How to make your blog stand out
Making money from your blog
How Angelina Jolie can help you sell!
Genres: