The Boat Girls: An uplifting wartime saga full of friendship and romance...
Unabridged Audiobook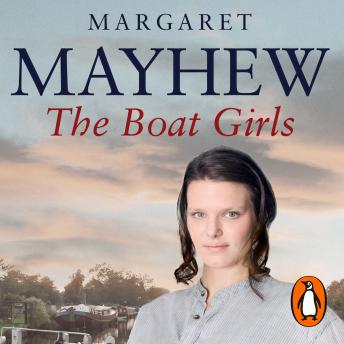 Duration:
9 hours 27 minutes
Summary:
Perfect for fans of Katie Flynn and Donna Douglas, a saga full of the romance and drama of World War II from bestselling author Margaret Mayhew.

READERS ARE LOVING THE BOAT GIRLS!

'I started reading this book last night and I absolutely devoured it, to the point I didn't go to bed until 6am. I could not put it down. It was so unbelievably good.' - 5 STARS
'Once I started it, [I] couldn't put it down' - 5 STARS
'Ended up reading this twice as it was so amazing...'-5 STARS
'Excellent story of the 3 girls and the boaters during the war, makes you feel you are there with them. Highly recommend this book.' - 5 STARS
'Omg this book was everything and more than I expected. My ideal book as I love family saga books. Three girls all from different backgrounds all join forces to work together. Highs and lows of everyday life. Loved, loved, loved it...' - 5 STARS

************************************************
1943: THREE GIRLS GO THE EXTRA MILE TO DO THEIR BIT FOR THE WAR EFFORT.

Frances - her life of seeming privilege has been a lonely one. Brave and strong, stifled by her traditional upbringing, she falls for a most unsuitable man.
Prudence - timid and conventional, her horizons have never strayed beyond her job as a bank clerk in Croydon until the war brings her new experiences.
Rosalind - a beautiful, flame-haired actress who catches the eye of Frances's stuffy elder brother, the heir to an ancestral mansion.

The three become friends when they join the band of women working the canal boats, delivering goods and doing a man's job while the men are away fighting. A tough, unglamorous task - but one which brings them all unexpected rewards.
Genres: