Bowing to Beijing: How Barack Obama Is Hastening America's Decline and Ushering a Century of Chinese Domination
Unabridged Audiobook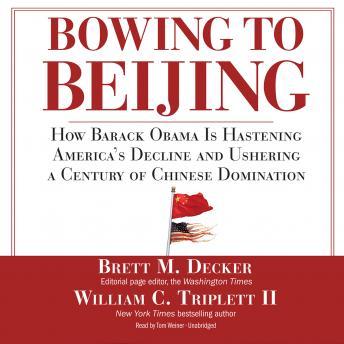 Duration:
6 hours 41 minutes
Summary:
Communist China is lying, cheating, and stealing its way into becoming a global superpower. And what's worse, President Obama is not only letting this happen but helping China do so. So argues bestselling author William Triplett II and Washington Times editor Brett M. Decker in their shocking book, Bowing to Beijing. Here, Triplett and Decker reveal how China's rapid rise directly correlates with America's decline-and the dangerous consequences this trend holds for us here and abroad. Exposing how China is unabashedly threatening and shaming us militarily, economically, politically, Bowing to Beijing is an all-encompassing look at
-China's destruction of traditional American industries at home, including how they're punishing American firms abroad, buying our assets (sometimes in secret), and flooding American homes with dangerous products;
-China's far-reaching espionage tactics, including extortion and subversion of the American political system as well as penetration of colleges and universities;
-China's strategic military buildup and weapons smuggling to rogue nations such as North Korea; and
-Obama's disengagement and general AWOL attitude toward the threat China poses toAmerica.
Our "win-win" relationship with China-in which Obama appeases China so they win twice while we lose-is crippling us and is detrimental to our future. America must respond and stop China's power grab if we want to preserve our standard of living, our global influence, and our freedom. In Bowing to Beijing, Decker and Triplett show us how.
Genres: