The Boy from the Woods: From the #1 bestselling creator of the hit Netflix series Stay Close
Unabridged Audiobook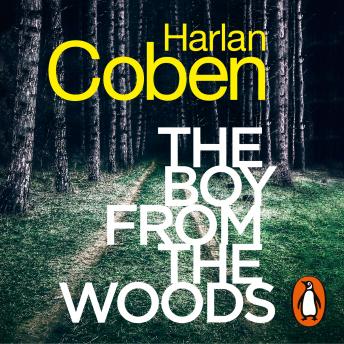 Duration:
10 hours 9 minutes
Summary:
THE LATEST BOOK FROM THE #1 BESTSELLING AUTHOR AND CREATOR OF THE HIT NETFLIX DRAMAS THE STRANGER AND THE WOODS, described by Dan Brown as 'the modern master of the hook and twist'

'I read The Boy From The Woods. I liked it. I liked it a lot!' STEPHEN KING
'Harlan's a great thriller writer [...] one of my favourites.' JOHN GRISHAM

Thirty years ago, a child was found in the New Jersey backwoods.

He had been living a feral existence, with no memory of how he got there or even who he is. Everyone just calls him Wilde.

Now a former soldier and security expert, he lives off the grid, shunned by the community - until they need him.

A child has gone missing. With her family suspecting she's just playing a disappearing game, nobody seems concerned except for criminal attorney Hester Crimstein. She contacts Wilde, asking him to use his unique skills to find the girl.

But even he can find no trace of her. One day passes, then a second, then a third.

On the fourth, a human finger shows up in the mail.

And now Wilde knows this is no game. It's a race against time to save the girl's life - and expose the town's dark trove of secrets...

'The first-class thriller you'd expect from a master ... his descriptions of the ploys used by sociopathic politicians to corrupt objective truth & render the news somehow negotiable are the best I've ever seen, read or heard.' JAMES O'BRIEN

'Thriller-lovers who just want some adrenaline to lift their spirits should escape with this riveting page-turner from the hugely popular author and screenwriter, Harlan Coben' MAIL ONLINE

'One of the world's finest thriller writers is at the very top of his game' PETER JAMES

'Coben never, ever lets you down' LEE CHILD

'Harlan Coben's thrillers are like intricately patterned knitting [...] He has created a cracker of a hero in the aptly named Wilde [...] Hopefully Wilde will return - Coben certainly leaves clues that he will.' THE TIMES

'If you liked The Stranger on Netflix, you'll love this [...] The novel is a splendid reminder that Coben is as brilliant at creating wonderful characters as he is at those textbook twists.' HEAT MAGAZINE

'Insanely readable and gripping' SUNDAY MIRROR

'Harlan's new book The Boy From The Woods is another skillfully crafted example of his talent at work[...] a page-turning joy to return to' RTE ONLINE

'Coben is a phenomenon - the most reliable of American thriller-writers, the least likely to disappoint ... the true mystery is Coben's extraordinary capacity to keep writing such wonderful thrillers' THE TIMES

'Harlan Coben is the absolute master of huge twists and turns.' RICHARD OSMAN

'Coben sets his hook deep very early on with a killer premise and then relentlessly reels in his readers as his deftly plotted tale ratchets up the tension and action to a violent, cathartic and ultimately satisfying climax. Each new novel is a textbook lesson in thriller writing' IRISH INDEPENDENT

'Coben remains one of the most reliable thriller writers around' CRIME REVIEW

'Coben is simply one of the all-time greats-pick up any one of his thrillers and you'll find a riveting, twisty, surprising story with a big, beating heart at its core' GILLIAN FLYNN
Genres:
1 of 1 people found this review helpful.