The Brig Society: Complete Series 3: The BBC Radio 4 sitcom
Unabridged Audiobook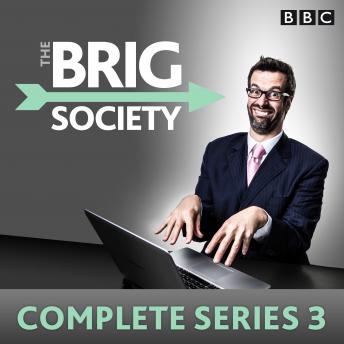 Duration:
3 hours 0 minutes
Summary:
In the complete third series of the multi-award-winning show, from the makers of 'Cabin Pressure' and 'Armando Iannucci's Charm Offensive', Marcus Brigstocke examines different facets of life by being put in charge of them. Each week he starts out by thinking "Well, it can't be that difficult, surely?" and ends up with "Oh - turns out it's utterly difficult and complicated. Who knew...?".

Joining him are regular guest stars William Andrews ("Sorry I've Got No Head") and Margaret Cabourn-Smith ("Miranda") as well as special guests Justin Edwards and Colin Hoult as they tackle the ills of British society, from the House Of Lords and internet trolling all the way up to the big issues – like why a paisley hanky is good for hiding disreputable stains, and how to use toothpaste to fool your landlord.

Written by Marcus Brigstocke, Jeremy Salsby, Toby Davies, Nick Doody, Dan Tetsell & Steve Punt. In the first episode, Marcus decides to take his local football team all the way to the top of the Premier League. He finds out about the pure, noble and honest game of football - and also FIFA. Plus he'll be tackling some of the sport's biggest problems, like racism and homophobia - and also FIFA.

In Show 2 -"Being A Woman" - Marcus has decided to cross the Gender Gap and become a woman. Expect a clear-eyed assessment of sexism and a doubling of the bathroom candle budget. Ahem. In

Show 3, Marcus coughs politely, dons a crumpled linen suit and fibs for Britain as he tries his hand at becoming a diplomat. On the way, he'll look at the history and origins of diplomacy, the training required, and the fact that approximately 60% of the modern British diplomat's work is spent apologizing for Jeremy Clarkson.

In the nicely-furnished, affordable Show 4 with very attractive views, Marcus decides to solve the housing crisis. He'll also be building a basement under the studio and knocking down a party wall he shares with The Archers.

Good Lord - is exactly what Marcus has become in Show 5 in order to peer under the ermine and see if we really do need that second chamber... Along the way he'll be looking at the history and function of the House of Lords, getting himself a Coat Of Arms, and having a good old rummage in the Woolsack.

Please turn your radio over and start listening as, in the final show, Marcus has thirty minutes to retake his GCSEs. During the show he will be sitting a genuine GCSE exam set by the Producer in an attempt to get the bottom of Grade Inflation and also the class.
Genres: