Car Buying Her Way: The Fierce Girl's Roadmap to the Car of Your Dreams
Unabridged Audiobook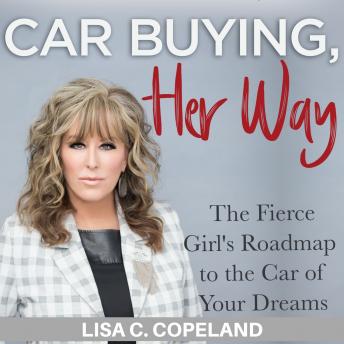 Duration:
4 hours 31 minutes
Summary:
Do you love cars but hate the experience of purchasing them?
"Lisa Copeland is the leading authority for female consumers in the automotive space. Women can not only learn from her, they can trust and rely on her sage advice.'
-Sharon Lechter, author of Think and Grow Rich for Women
Lisa Copeland dreads purchasing cars-and she was the managing partner/general manager of one of the most successful FIAT/Alfa Romeo dealership in the US.
In Lisa Copeland's second book, she shares wisdom and insights from her more than thirty years in the automotive industry, having risen to become one of its most renowned influencers. Lisa's underlying purpose is empowering female consumers while compelling the industry as a whole to level up and create a remarkable purchasing experience for the number one influencer in the world: women.
She removes the fear and stigma from car buying with detailed, proven tips and strategies while sharing unique business lessons she's learned that, when applied, can transform one's professional growth in any industry.
In this book, you will discover:
- How to confidently negotiate a spectacular deal on the car of your dreams
- How to choose the right car and the right dealership for your needs
- The pros and cons of leasing versus buying as well as new versus pre-owned
- When to trade in your car (and how to get the best price for it)
- Alternate transportation solutions and up-and-coming market disrupters
A car is the second-biggest asset you're likely to acquire, next to your home. Purchasing it should be fun! If you are ready to purchase your dream car, your way, this book is for you.
"I hold Lisa in the highest regard and endorse her mission: empowering women when it comes to car buying at dealerships, supporting and mentoring women's careers, and growing more female leaders in the automotive industry."
-Jody DeVere, co-founder, Women in Automotive LLC and CEO, AskPatty.com, Inc.
Genres: