Celebrated Crimes, Book 16: The Marquise de Brinvilliers
Unabridged Audiobook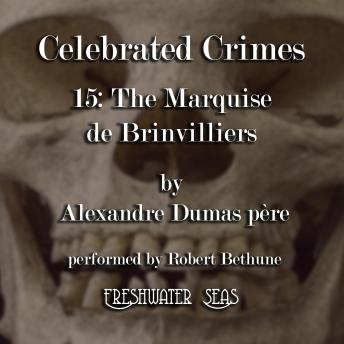 Duration:
1 hours 3 minutes
Summary:
To paraphrase the note from the translator, The Celebrated Crimes of Alexandre Dumas père was not written for children. The novelist has spared no language—has minced no words—to describe violent scenes of violent times.

In this, the sixteenth of the series, Dumas, the novelist-historian, brings his story-telling skills to a subject no less than infamous at the time and which still holds a fascination for us: Marie-Madeleine-Marguerite d'Aubray, Marquise de Brinvilliers.

The Marquise was tried, convicted, and executed for poisoning her father and two of her brothers. It appears that she learned the art of the poisoner from her lover, Godin de Sainte-Croix. She also targeted, but did not kill, her sister, a Carmelite nun. Her case launched what is known in French history as the Affair of the Poisons, a long-running judicial scandal which led to the execution or imprisonment of dozens of people, many of the highest rank in French society, including prominent members of the court of Louis XIV.

Although Duma's book on Brinvilliers has been dismissed as mere historical fiction, in reality it is solidly based on the documents of the time and on prior historical treatments of the case. Shocking as it is to suppose, this beautiful and cultured Frenchwoman was indeed a formidable murderess.

Of course, Dumas, the dramatist and novelist, cannot help embellishing the work of Dumas, the historian. It becomes clear that his true interest lies not in the events, but in the character of Brinvilliers herself, as she confronts the rapidly approaching fact of her own torture and execution. Approximately half the book is devoted to the conversations between the Marquise and Edmond Pirot, a theologian of the Sorbonne, who acted as her chaplain and confessor during the last days of her life. The give-and-take between them is an interesting dramatization of the workings of conscience and remorse.

Dumas may have collaborated on this, as he frequently did in his works, with other writers. Nevertheless, it is clearly Dumas who has the final say on this work, as with all the other works in this series.

Enjoy!
A Freshwater Seas production.
Genres: