CEO Communication Skills: Verbal Skills to Inspire Passion
Unabridged Audiobook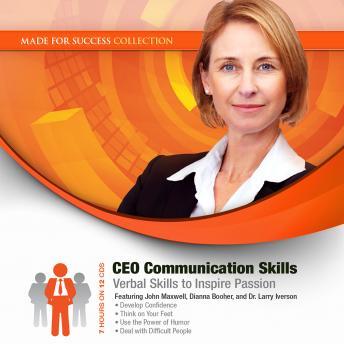 Duration:
8 hours 43 minutes
Summary:
If you want to influence, persuade, or inspire your team, clients, or a room of colleagues, you need to be a skilled speaker. Are your communications skills up to par? Can you think on your feet and deliver a compelling message at any moment? Learn how to deliver presentations, lead meetings, and communicate the company vision with ease and confidence, speaking in a compelling manner that arrests attention and makes people want to follow you.
Use the time-tested strategies in this audio collection from America's leading communicators and bestselling authors to learn and practice your skills. Your words matter, as does how you carry yourself when you speak. When you communicate your vision with passion and fire, you will move people into action.
Some people say communication skills are essential to your business success, but advanced skills are rarely taught in schools and universities. Now you can learn at your own pace at a time that's convenient for you, while you commute or workout. Understand how you can become a "leader manager" and advance your position in the workplace.
Genres: