CEO Secrets to Team Building: Leading Loyal Teams to Achieve Amazing Results
Unabridged Audiobook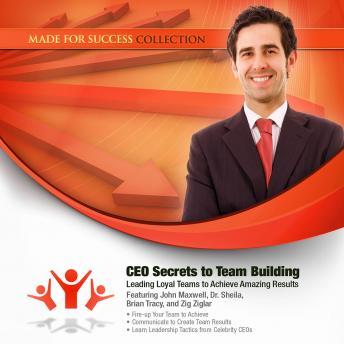 Duration:
9 hours 3 minutes
Summary:
Great leaders like Steve Jobs and Michael Eisner have a knack for inspiring large teams to new heights. What is it that propels their teams to greatness? This program offers a 360 degree view of the leadership traits that anyone can learn to inspire their team to achieve challenging goals, offered by some of the most effective leadership communicators in the world today.
Understand the skills proven to transform team relationships that ignite a passion in others to excel. Tap into your team's creative energies with team building ideas to leverage the strength a unified team brings to a goal. Understanding your own blind spots is important to avoid the twelve reasons organizational changes fail. Learn to avoid this common leadership trap and keep your team on task. Equally important is understanding the psychology of why employees and volunteers resist or reject change.
These presentations are informative and compelling, as the hand-picked faculty represents the brightest and most engaging speakers and authors in the business. To motivate your team, it is imperative that you understand human nature, the political environment, and business positioning. Learn these valuable skills on your terms, while you commute or workout, so when you get to the office these insights will become part of your leadership DNA.
Genres: