The Classical Economists
Unabridged Audiobook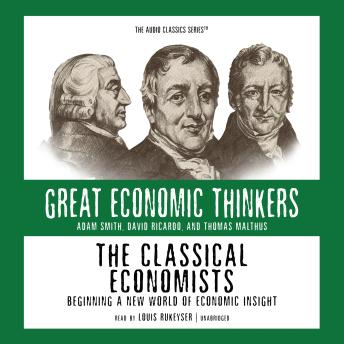 Duration:
2 hours 51 minutes
Summary:
The classical economists pioneered a new way of thinking about the uniquely human tendency to produce, trade, consume, and accumulate.
Adam Smith (1723–1790) explained how the division of labor expands productive power and argued for freedom in economic affairs. David Ricardo (1772–1823), a London stockbroker, developed the concept of diminishing returns, the wages-fund doctrine, and classical rent theory. Another classical theorist, Thomas Malthus (1776–1834), proposed that workers are doomed to subsistence wages, because populations increase geometrically while food production increases arithmetically. Other classical economists, including James Mill, John Stuart Mill, and Nassau Senior, extended and refined classical economics throughout the nineteenth century.
The Great Economic Thinkers series is a collection of presentations that explain, in understandable language, the major ideas of history's most important economists. Special emphasis is placed on each thinker's attitude toward capitalism, revealing their influence in today's debate on economic progress and prosperity.
Genres: