Company Policy - A collection of four erotic stories
Abridged Audiobook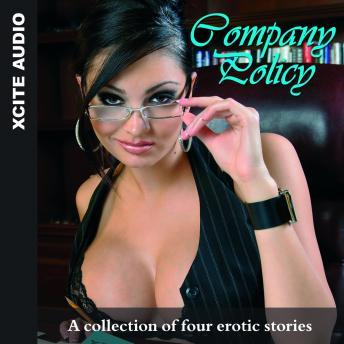 Duration:
1 hours 11 minutes
Summary:
A collection of four erotic stories with mixed and varied themes including femdom, bdsm, submission, lesbian and historical.

Company Policy by Emily Dubberley

What is your company's policy on sex in the workplace? Ella is forced to revise her attitude when she encounters 22 year-old Alex, whose buffed body has been driving the other women in the office wild. She detects an arrogance in his attitude, a sense that he is all too convinced of his attractiveness. This might be justified, but in Ella's eyes his macho swagger needs a little modification...

Man-Stalker by Landon Dixon

Timid, homely bank clerk Calvin Dooley is a legs man; the kind of fanatical legs man who will most definitely be swayed by a woman with a cracking set of pins.

When he meets the utterly beauteous Eva La Flora his moral compass receives a severe knock and starts pointing due south! Before he knows it he is in a whole world of trouble when Eva, who has more on her devious mind than Calvin's happiness and well-being, persuades him to start stealing from the bank...

The Hole In The Oak-Panelled Wall by Roger Frank Selby

A man named John. A woman called Jane. What could be more commonplace? Yet the situation in which they find themselves is far from ordinary. Jane, neck trapped in a hole between two oak-panelled rooms, is at the mercy of the men that visit her. Will John be any different than the others?

The Collaring Of Camilla by Alexia Falkendown

Cissbury Hall is the home of the secret Sapphic Order of Cissbury Sybarites, an association of like-minded women who have chosen to devote their lives to the pursuit of pleasure. This is a serious business, as Camilia will find out when she undergoes the ceremony that will transform her into a handmaiden, forever bound to her mistress, Delia...
Genres: