Conscious Uncoupling: 5 Steps to Living Happily Even After
Unabridged Audiobook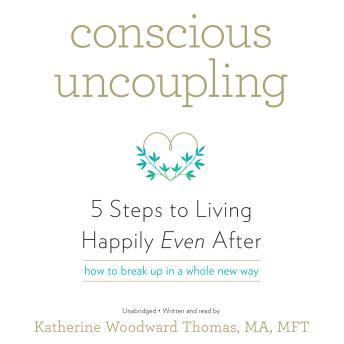 Duration:
9 hours 30 minutes
Summary:
Conscious Uncoupling is a breakup or divorce that is characterized by good will, generosity, and respect. And it's a book for anyone who has ever experienced a bad breakup of any kind—with a girlfriend, boyfriend, friend, boss, employee, husband, or wife—and who wants to try another way.

It's well past time we became more grown-up and less damaging in how we dissolve relationships. Conscious Uncoupling is a tried-and-true, step-by-step process for completing the old relationship while holding out for the possibility of generating a happier and healthier one. Katherine Woodward Thomas teaches listeners how to have difficult conversations with the other person in their relationship, clear away any toxic emotional residue left between them, and train one's social community to adjust to the new form of the relationship and behave respectfully toward both individuals.

Conscious Uncoupling will also provide a cultural perspective on breakups and divorce and will help listeners understand their own experience inside of the larger context of society. And the book will initiate and support this new movement in culture by promoting greater awareness and introducing the critical skills to navigate the end of love in an empowered way.

Conscious Uncoupling promises to be a substantial book that will inspire people to begin thinking differently about breakups and divorce in addition to helping them heal their heartbreak.
Genres: