Courage to Start: The Ultimate Guide on How to Have Courage to Face Anything and Confidence to Achieve Your Dreams
Unabridged Audiobook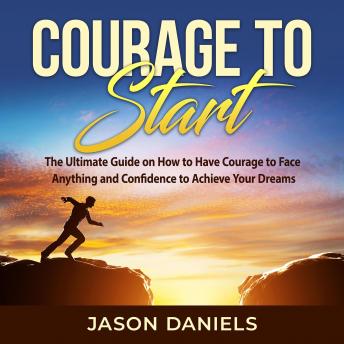 Duration:
0 hours 18 minutes
Summary:
Courage to Start: The Ultimate Guide on How to Have Courage to Face Anything and Confidence to Achieve Your Dreams

Fear may come in numerous forms and it's crucial to comprehend what it is. There's unhealthy fear and healthy fear. When we're frightened of something that can't really harm us - like spiders - or something we may do nothing about - like old age - then our fear is unhealthy, for it only makes us distressed. But, when someone stops smoking since they're afraid of getting lung cancer, this is a healthy fear.

This audiobook will teach you how to overcome your unhealthy fears. You will learn how to distinguish between healthy and unhealthy fears and so you can take the necessary steps to manage them. You will learn how to take control, and relax and finally wipe out those delusions and fears. This audiobook will discuss the following topics:

- The Meaning Of Being Frightened

- What You Might Fear

- Exposing Your Fears

- Get Moving

- Use Affirmations

- Self Hypnosis And Reprogramming

- Confidence Is A Mental Attitude

- Anticipations

- Beginning Factors and Suppositions

- Mighty Techniques For Formulating Self-Confidence and Bravery

- Utilizing Hypnosis To Quickly Build Up Self-Confidence and Bravery

- And many more!

While our fears are meant to be part of our survival instinct, they get to be a problem when they begin to interfere with our normal functioning. It is important to learn how to overcome these fears. If you want to learn more, scroll up and click "add to cart" now!
Genres: