Crying Blood: The Alafair Tucker Mysteries
Unabridged Audiobook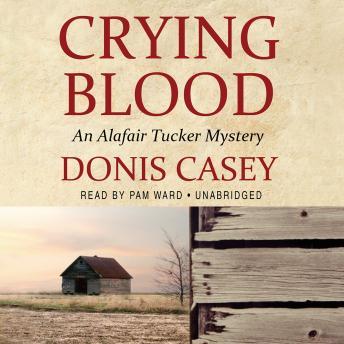 Duration:
7 hours 55 minutes
Summary:
In the autumn of 1915, Shaw Tucker, his brother, James, and their sons, go on a hunting trip to the derelict farm his stepfather had bought years before.
Instead of a quail, Shaw's dog, Buttercup, retrieves an old boot with the bones of a foot inside. Her discovery leads the men to a shallow grave and a skeleton with a bullet hole in the skull.
After settling in their tents for the night, Shaw awakens to see a pair of moccasin-clad legs strolling by his tent flap. He chases the intruder, who has disappeared so completely that Shaw wonders if he imagined the whole thing, including the ghostly voice that called his name.
Even after he returns home, Shaw can't shake the memory of the disembodied legs and the ghostly voice. His concern is justified when he realizes that someone - or something - has followed him home. His dread turns to relief when he captures a young Creek Indian boy who says his name is Crying Blood. The boy had followed Shaw, hoping to find the white-haired man who killed his brother.
Shaw ties the boy up in the barn, but during the few minutes he is left alone, someone thrusts a spear through Crying Blood's heart.
Who murdered a boy right under Shaw's nose? The law is on the killer's trail, but Shaw Tucker has a hunch about the identity of the white-haired man who called his name, and he formulates a plan. Shaw's wife, Alafair, is the only one who might be able to forestall his dangerous plan. So when the opportunity arises, Shaw sends her on a wild-goose chase. As soon as she is out of the way, he sets out to confront the killer. Sometimes a man has to take matters into his own hands.
Genres: