Dark Psychology: 3 Books In 1: Manipulation, Persuasion and Dark Psychology. Learn How To Analyze People and Mind Control. Defend Yourself Against Deception and Brainwashing.
A free trial credit cannot be used on this title.
Unabridged Audiobook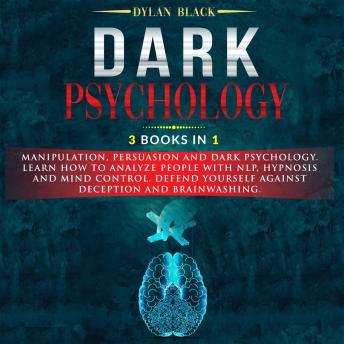 Duration:
10 hours 3 minutes
Summary:
Would you like to learn how to master the best NLP and Psychology techniques?Do you wish to understand the effects of mental Manipulation? Are you desirous of learning hypnosis and other techniques for effective Persuasion? If your answers to the above questions are affirmative, you have made the right choice by getting this audiobook.

Dark Psychology is a field of study that many people are yet to understand, and a lot of them are careless when it comes to protecting themselves against who is expert in controlling the mind. This audiobook offers a cutting-edge explanation of some of the essential principles in the world of Dark Psychology. Each chapter explains an aspect of it in a way that is understandable for a layman with no specialist scientific knowledge. You will also be shown how you can apply the principles of Dark Psychology if you choose to. People surrounded by manipulators often struggle to find self-confidence. They control your life, emotions and actions. It is a state of psychological and emotional slavery, which you need to break as soon as possible.

Some of the different topics covered in the book include:


- What Dark Psychology is
- The Effects And Impact Of Dark Psychology
- Social Conditioning
- Ambition And Personal Aspirations
- Brainwashing
- Best Ways To Shield Your Defence Against Dark Psychology
- Codes of Influence
- Strategies of Manipulation
- Mind Control
- Hypnosis
- Body Language Codes
- Aspects of Persuasion
- Techniques of Persuasion
- Elements of Persuasion
- What NLP is

Knowledge is power, and this audiobook tries to place that power and control back into your hands and set you free from those who do not care for you.

Now is the time to act!

Grab your copy now!
Genres: