Deadly Reality TV Series Book #2 Pain For Gain
A free trial credit cannot be used on this title.
Unabridged Audiobook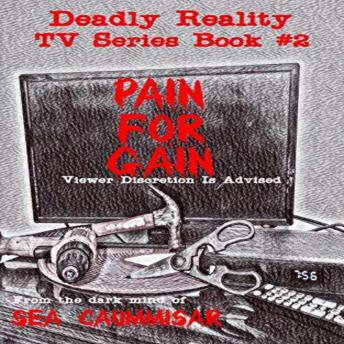 Duration:
3 hours 46 minutes
Summary:
'Pain for Gain' is a reality game show that is played in pairs and you get paid to hurt your partner.


This is the second book in The Deadly Reality TV Series. This book can be read as a standalone, but is much better after reading the first book in the series.

The story follows the life of Damon Dahmer. After his reality pain game show 'Easy Money' was cancelled, he returns to work and finds out that there's another producer trying to take his job. There's a new reality pain game show called 'Pain for Gain', and Damon must either learn to work with this new producer, or find a way to get rid of him.

Meanwhile, Damon gets lonely and decides to have his girlfriend move in with him.

This book is for ages 18+. There is more gore and violence in this book than the first in the series. Not for the faint of heart. Viewer (reading) discretion is advised

'Pain for Gain' the only show on television that pays people to get hurt.
Genres: