The Entrepreneur Equation: Evaluating the Realities, Risks, and Rewards of Having Your Own Business
Unabridged Audiobook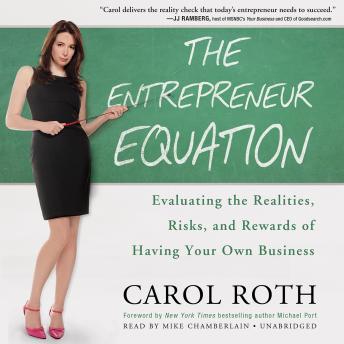 Duration:
9 hours 40 minutes
Summary:
There's never been a better time to start a business-or so the conventional wisdom would have you believe. But with up to 90 percent of businesses failing within the first five years, it's time to take off the rose-colored glasses and think twice before you invest your precious time, money, and energy.
The Entrepreneur Equation helps you do the math before you start down the entrepreneurial path so you can answer not just "Could I be an entrepreneur?" but also "Should I be an entrepreneur?" By understanding what it takes to build a valuable business as well as how to assess the risks and rewards of business ownership based on your personal circumstances, you can learn how to stack the odds of success in your favor and ultimately decide if business ownership is the best possible path for you, now or ever.
Through illustrative examples and personalized exercises, tell-it-like-it-is Carol Roth helps you create and evaluate your own personal "entrepreneur equation" as you
-learn what it takes to be a successful entrepreneur in today's competitive environment;
-save money, time, and effort by avoiding business ownership when the time isn't right for you;
-identify and evaluate the risks and rewards of a new business based on your goals and circumstances;
-evaluate whether your dreams are best served by a hobby, job, or business; and
-gain the tools that you need to maximize your business success.
The Entrepreneur Equation is essential reading for the aspiring entrepreneur. Before you invest your life savings, invest in this book!
Genres: