Expert Secrets – Communication Skills, Critical Thinking & NLP: The Ultimate Neuro-Linguistic Programming Guide to Improve Body Language, Charisma, Decision Making, Problem Solving, and Self-Disciplin
Unabridged Audiobook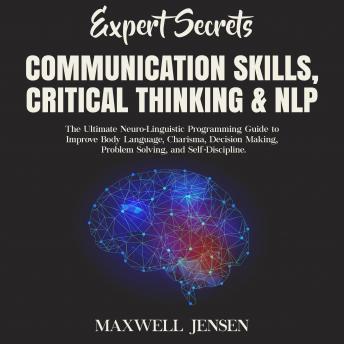 Duration:
3 hours 49 minutes
Summary:
Would you like to:

- Have more charisma and shine in social situations?

- Rock at public speaking and be a center of attention?

- Take control of your thoughts and solve problems rapidly?

Yes? Then this ultimate guide to communication and critical thinking is just for you!

Being able to make small talk can make a huge difference when it comes to that promotion you want. Healthy self-expression and straightforward communication can save your romantic relationships. There's not one aspect of life that can't be improved with better communication skills.

The same goes for critical thinking. Do you feel anxious and stressed when faced with a problem? What if we told you that you can approach problems in a relaxed way? The trick is knowing how to think and analyze people and problems. When you learn these bulletproof strategies, you will be able to make informed decisions and resolve any problem in your way.

Here's what you'll learn in this 3-in-1 self-help mastery audiobook:

- Communication: Develop masterful communication skills in the workplace, personal and romantic relationships, learn how to hold a conversation, start small talk, improve your written communication, and become a master of body language

- Critical Thinking: Learn the best strategies for problem-solving, figure out how to read and analyze people, use the powers of emotional intelligence to approach work conflicts, and make decisions that benefit your future

- NLP: Understand how neuro-linguistic programming works, how to improve your mindset and outlook on life through language, master persuasion, and manipulation skills, and finally understand what others mean when they say what they say

Ready to get on the right path?

Scroll up and Start Listening NOW!
Genres: