Fantasy X - A collection of five erotic stories
Unabridged Audiobook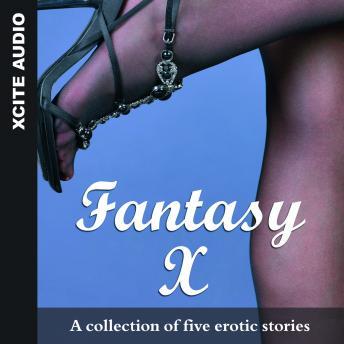 Duration:
1 hours 19 minutes
Summary:
A collection of five erotic stories with mixed and varied themes.

Fantasy X by Penelope Friday
Long time married, Dee and Kyle know how to keep the passion between them alive. Every so often, they have a fantasy night, and this time it's a fantasy of Dee's...

Victoria Learns Discipline by Angela Meadows
At the Venus School for Young Ladies, girls are prepared for their future husbands. After being caught doing something she shouldn't, Victoria is punished by the Principle, Madame Thackeray. She is assigned a task to perform correctly every night, or face the glorious punishment of Madame Thackeray again.

Booby Call by Landon Dixon
A man who travels around refilling vending machines unashamedly has numerous women to brighten up his dull job. Of course, he has a couple of favourites...

Phone on the Train by David Inverbrae
She's travelling on a crowded train. He's on the phone teasing her with his words. He tells her of an exhibitionist fantasy, of them alone in the train carriage, doing dirty deeds. Before she knows it, one exhibitionist fantasy ends...and another begins.

Any Friend of Hers by Jeremy Edwards
Dahlia is throwing a dinner party; some of her closest friends and her loving husband. She plans to take the girls shopping and before she leaves, she asks her husband a strange question; has he ever thought about sleeping with any of her friends? Uncomfortably, he admits he does. After the dinner party, Dahlia goes back to her theatrical roots and dresses up as her friends in an exciting role play with her husband.
Genres: