The Fifth Queen: Books 1-3
Unabridged Audiobook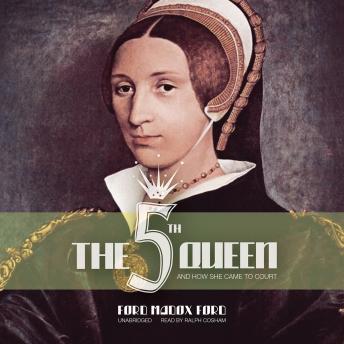 Duration:
18 hours 49 minutes
Summary:
Ford Maddox Ford's masterful trilogy of historical fiction centers on Katharine Howard, a young girl of a proud, noble, and impoverished family who catches the jaded eye of Henry VIII and becomes his controversial fifth queen.
In book one, The Fifth Queen, Katharine arrives at the king's court to find its dimly lit corridors vibrating with corruption and fear as unscrupulous courtiers hungry for power maneuver for advantage. Clever, beautiful, and outspoken, Katharine soon becomes caught in a web of intrigue and romance as she fights for political and religious change.
In book two, Privy Seal, Katharine becomes locked in a vicious battle with Thomas Cromwell, the Lord Privy Seal, and continues her battle for change.
Finally, in book three, The Fifth Queen Crowned, Katharine once again becomes caught in a web of court intrigues. She believes strongly in a restoration of the Catholic faith, but this conviction has made her vicious enemies, for a return to the Church of Rome would mean reinstating the lands and riches taken from the church under Henry's reign. Here, Katharine's fatal combat with Thomas Cromwell reaches its stunning conclusion.
Ford saw the past as an integral part of the present experience and understanding. His sharply etched vision of the court of Henry VIII echoes aspects of Edwardian England as it explores the pervading influence of power, lies, fear, and anxiety on people's lives.
Genres: