Focus: Master the Art of Concentration and Ignoring Distractions with a Sound Mind
A free trial credit cannot be used on this title.
Unabridged Audiobook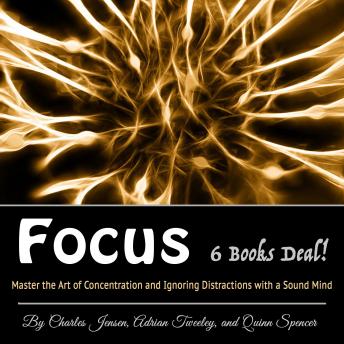 Duration:
8 hours 3 minutes
Summary:
Get a discount on these 6 amazing books in 1 book bundle.

Book 1: Focus - In this world, in this 21st century, it is becoming harder and harder to stay focused. Distractions have increased, and technology and commercial advertising have not helped us much. We find ourselves in a constant battle between shifting our attention and allowing ourselves to be 'caught' by the things of the moment.

Book 2: Mind Mapping - Mind mapping is not a new concept. It has been proven by academic studies and psychological research to be one of the best techniques to remember information for a test in college, business presentations, or to develop the abilities of your memory, period. 

Book 3: NLP Training - Neuro Linguistic Programming (or NLP) lies at the very essence of this idealistic and realistic approach to life. The technique is used by hypnotherapists, psychiatrists, medical physicians, and counselors. Needless to say, it has been recognized as one of the most vital ways of achieving more and shaping our minds for success.

Book 4: Critical Thinking - In this book are all the techniques you need to be a critical, smarter thinker. Intelligence can be developed and trained. Critical thinking is a skill many people have forsaken. They follow the masses, the media, the trends, or some role model they admire.

Book 5: Accelerated Learning - Do you want to learn more faster? You've come to the right place. There are so many people in this world who spend hours, days, or years learning the same thing others learn 10 times faster. It's a waste of time. Let's face it. We can do better.

Book 6: Memory Improvement - You will be amazed at the things you'll hear. In this guide, the author made sure that all the quick tricks and long-term strategies that work are listed. You will hear about various topics that cover the most important things you should do to improve your memory. 
Genres: