From Beirut to Jerusalem
Abridged Audiobook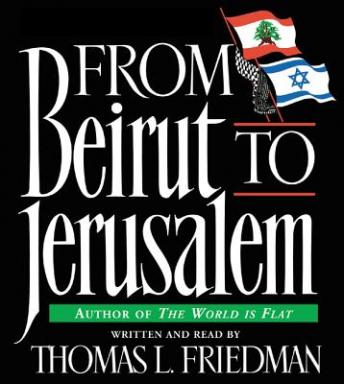 Duration:
3 hours 3 minutes
Summary:
In From Beirut to Jerusalem, Thomas L. Friedman of The New York Times, author of The Lexus and the Olive Tree, has drawn on his decade in the Middle East to produce the most trenchant, vivid, and thought-provoking book yet on the region.

No issue in international politics has been more hotly debated than the Arab-Israeli conflict. And no reporter has illuminated both the conflict and the rhythms of life in the Middle East with more immediacy and brilliance than Tom Friedman, twice winner of the Pulitzer Prize for international reporting. Extremism, terrorism, fundamentalism on right and left, Friedman puts all the operative currents into perspective with an inimitable specificity and clarity.

On Friedman's own remarkable journey from Beirut to Jerusalem, he writes, 'This is a book about the people in Beirut and Jerusalem themselves, who were going through remarkably similar identity crises. Each was caught in a struggle between the new ideas, the new relationships, the new nations they were trying to build for the future, and the ancient memories, ancient passions, and ancient feuds that kept dragging them back into the past.' From Beirut to Jerusalem is a major work of reportage, a much needed framework for understanding the Middle East, yesterday, today, and tomorrow.
Genres: