Great Cloud of Witnesses Speak: God's Generals
A free trial credit cannot be used on this title.
Unabridged Audiobook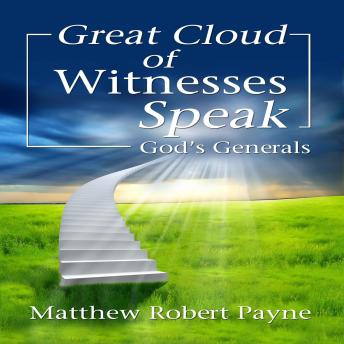 Duration:
3 hours 39 minutes
Summary:
We read in the scriptures that Moses and Elijah came to visit Jesus and encouraged him before his death on the cross. When Christ resurrected, we also hear of saints coming out of their graves and appearing in the holy city to people living there. (See Matthew 17:1-13 and Matthew 27:52.) We are now entering a new phase on earth where people that live in heaven are visiting people on earth and mentoring them and teaching them spiritual principles. Justin Abraham, Ian Clayton, Shawn Bolz, and other Christian ministers are reporting these unique visitations, and soon many people on earth will be encountering saints from heaven. In this book, Matthew Robert Payne interviews some of God's generals: John G. Lake, Kathryn Kuhlman, Charles Finney, and Smith Wigglesworth. They each answered several questions, such as: •What is important to God •What they like about heaven •A message for this generation and •Important keys for the Christian life. Let God's generals speak to you in simple English, infused with their wisdom from heaven and their experience on earth so that they can lead you into a type of life that will see you achieve everything that you were born to do. This book provides practical advice and actionable steps that you can use as a tool to thrust you into a successful Christian life.
Genres: