Holy Ghost Girl: A Memoir
Unabridged Audiobook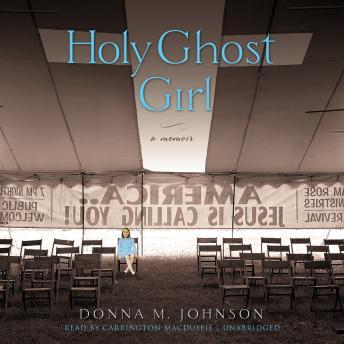 Duration:
9 hours 6 minutes
Summary:
A compassionate, humorous story of faith, betrayal, and coming of age on the sawdust trail
She was just three years old when her mother signed on as the organist of tent revivalist David Terrell, and before long, Donna Johnson was part of the hugely popular evangelical preacher's inner circle. At seventeen, she left the ministry for good, with a trove of stranger-than-fiction memories. A homecoming like no other, Holy Ghost Girl brings to life miracles, exorcisms, and face-offs with the Ku Klux Klan—and that's just what went on under the tent.
As Terrell became known worldwide during the 1960s and '70s, the caravan of broken-down cars and trucks that made up his ministry evolved into fleets of Mercedes and airplanes. The glories of the Word mixed with betrayals of the flesh, and Donna's mother bore Terrell's children in one of several secret households he maintained. Thousands of followers, dubbed "Terrellites" by the press, left their homes to await the end of the world in cult-like communities. Jesus didn't show, but the IRS did, and the prophet-healer went to prison.
Recounted with deadpan observations and surreal detail, Holy Ghost Girl bypasses easy judgment to articulate a rich world where the mystery of faith and human frailty share a surprising and humorous coexistence.
Genres: