How to Analyze People - 2 in 1 Bundle: Read People Like a Book With Body Language, NLP and Persuasive Communication Techniques. Develop Effective Communication Skills to Decode Intention and Connect E
Unabridged Audiobook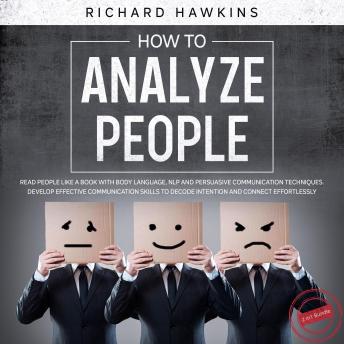 Duration:
2 hours 32 minutes
Summary:
DO YOU WANT TO UNDERSTAND THE BODY LANGUAGE AND HUMAN PSYCHOLOGY OF THOSE YOU INTERACT WITH?

Body language is one of the most powerful tools to read people and discover more about them. You can lie with words, but your body language will say the truth.

This book will help you to become highly skilled at verbal and non-verbal communication by guiding you to understand the psychology behind the actions of those you observe and interact with.

Together we will also learn how to ethically influence people with positive manipulation, and why it's important to improve your communication skills.

Yes, I said ethically. Reaching success doesn't have to be at the expense of others. Instead, you can get others to help you achieve success, and they can enjoy all the benefits of your success as well.

You will learn:

• How to analyze and deal with different people

• Influence of culture, personal and social aspects

• How to read people through body language and non-verbal

• What are the main communication styles

• How to understand people's motivations

• How manipulation can help you in your everyday life

• What can you do to better interact with people

And much more…

No matter your goals in life, these psychological and communication tricks are vital to your success.

DON'T WAIT ANY LONGER, GET YOUR COPY TODAY AND BEGIN YOUR JOURNEY TO YOUR IDEAL LIFE!
Genres: