How To Make BBQ Sauce: Your Step By Step Guide To Making BBQ Sauce
A free trial credit cannot be used on this title.
Unabridged Audiobook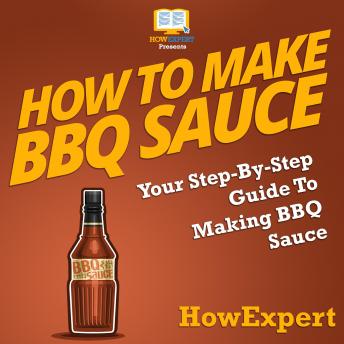 Duration:
0 hours 43 minutes
Summary:
If you want to learn variations of techniques in making barbecue sauces then, get a copy of this 'How To Make BBQ Sauce' guide.

In this step-by-step guide you will be able to:

- Learn different variations of barbecue sauce.

- Determine the different base sauces used in barbecue.

- Impress your family and friends to this newly found talent of making sauces.

- Prepare your own sauce depending on the need or situation.

- Learn the secrets of truly delicious sauces.

- Learn useful tips in preparing the materials and ingredients needed.

- Learn how to ensure the quality of ingredients.

- Keep your own secret recipe in making different sauces.

- Plus learn extra tips on preparing soy sauce and lemon juice for fish barbecue.

- And much more.


HowExpert publishes quick 'how to' guides on all topics from A to Z by everyday experts.
Genres: