Immortality, Inc.
Unabridged Audiobook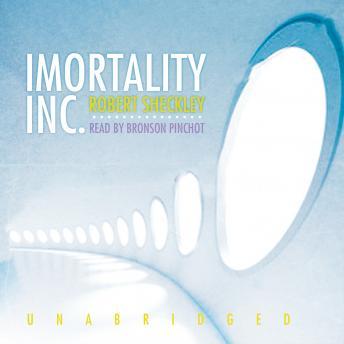 Duration:
5 hours 50 minutes
Summary:
Want to be immortal? You can be in AD 2110. Just go to the Hereafter Insurance Corporation and hook yourself up to the Machine. There's nothing to fear. That is, if it happens to be working right, and if nobody slips another mind into your body when you're not looking, and if you're not on a poltergeist hate-list…
First published in 1959 as a startling, revolutionary novel of the future—then pushed to new cinematic limits as the feature film adaptation Freejack in 1992—Robert Sheckley's unsettling vision of tomorrow is a trenchantly witty novel of a future where everything has improved except the bumbling human race, which just can't let itself enjoy a good thing when it finally gets it.
Thomas Blaine awoke in a white bed in a white room and heard someone say, "He's alive now." Then they asked him his name, age, and marital status. Yes, that seemed normal enough—but what was this talk about "death trauma"? Thus was Thomas Blaine introduced to the year 2110, when science had discovered the technique of transferring a man's consciousness from one body to another, when a man's mind could be snatched from the past, as his body was at the point of death, and brought forward into a "host body" in this fantastic future world. But that was only a small part of it, for the future had proved the reality of life after death and discovered worlds beyond or simultaneous with our own—worlds where, through scientific techniques, a man could live again, in another body, when he died here—and had in the process established the reality of ghosts, poltergeists, and zombies. What did it all mean? How had this discovery of what they called the "hereafter" shaped the world of 2110? Thomas Blaine found himself living in a future where the discoveries and techniques imagined by people of his time, though realized, were completely overwhelmed by discoveries no one had ever dreamed of.
Genres: