It's About Time: Hunt Family Book 5
A free trial credit cannot be used on this title.
Unabridged Audiobook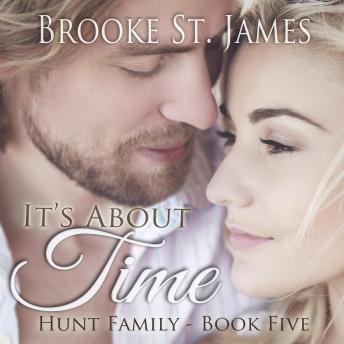 Duration:
4 hours 54 minutes
Summary:
It's About Time is the fifth and final book in the Hunt Family series. It can be read as a standalone or in series order.

Evan Hunt had spent most of his adult life working as an environmentalist and living out of a duffle bag. It came as a total shock when his father suddenly confronted him about setting goals for his future. Evan wasn't much for following rules and his instinct was to simply ignore what his dad was saying. However, he decided it was time to set his sights on success just to prove to his family that he could do it.

And that's exactly what he did.

Just when it seemed like everything was coming together, Evan was involved in a serious motorcycle accident. All his plans and dreams were put on hold, and he was forced to move home to Charlotte so his parents could assist in his recovery.

He didn't expect this detour to change his life for the better. He was so focused on sticking with his plans that he almost missed out on the love of his life.
Genres: