Jim Henson: The Biography
Unabridged Audiobook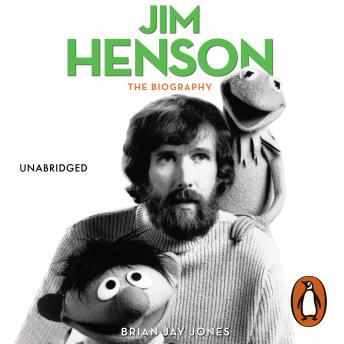 Duration:
21 hours 19 minutes
Summary:
Innovator. Genius. Legend.

Jim Henson was a talent like no other. The iconic characters he created – Kermit the Frog, Bert and Ernie, Miss Piggy, Big Bird – made Jim Henson a household name. But they were just a part of his remarkable story.

Now, in this extraordinary biography, written with the generous cooperation of the Henson family, Jim's life is given full rein: his vibrant imagination, winning sense of humour, and infectious enthusiasm. For the very first time, the Henson archive has been opened to an independent biographer, giving Brian Jay Jones unprecedented access to private papers. Drawing on this treasure trove of material, as well as exclusive interviews with Henson's family, friends and closest collaborators, this is quite simply the most comprehensive book ever written about a man who is a hero to millions.

Read all about the evolution of the Muppets, Henson's contributions to Sesame Street and his lengthy campaign to bring The Muppet Show to television, as well as Henson's non-Muppets projects – the richly imagined worlds of The Dark Crystal and Labyrinth, and fascinating misfires like Henson's dream of opening an inflatable psychedelic nightclub.

Jim may be gone, but he and his legacy are not forgotten. In Jim Henson, we have the ultimate celebration and examination of an unforgettable, irreplaceable, incomparable man.
Genres: