The Journey of the Heroic Parent
Unabridged Audiobook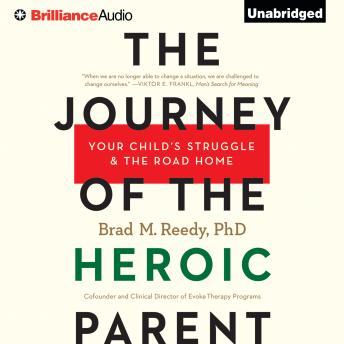 Duration:
8 hours 22 minutes
Summary:
Raising a child struggling with mental health issues, addictions, depression, suicidal thoughts, eating disorders, or just the normal angst associated with growing up can be frightening and overwhelming. Every day you face heartbreaking situations.

As a therapist and parent educator, Dr. Reedy has helped thousands of families replace their anxiety and confusion with clarity, insight, and empowerment. In The Journey of the Heroic Parent, Dr. Reedy uses his extensive experience as a wilderness therapist to provide a way for you to effect positive change in your own behavior. By embarking on this journey you will step out of your comfort zone and will come to better understand your child.

The Journey of the Heroic Parent will empower you to
• Give your child the space to feel and express his or her emotions
• Recognize that you don't have to get everything perfectly right
• Break free from guilt and set healthy boundaries
• Avoid threatening or intimidating your child into doing the right thing
• State your message clearly and stop trying to control the outcome

To truly support your child, you must be right there with them, hurting with them and acknowledging them, but you should also model independence. You can do this by developing greater compassion and by learning to fully comprehend your intentions and motivations.

Dr. Reedy reveals how you can stay connected to your child. He will change how you think about parenting. He will create an understanding that healthy parenting leads to a healthy life for your whole family.
Genres: