Kevin Eldon Will See You Now : Series 3: The BBC Radio 4 sketch show
Unabridged Audiobook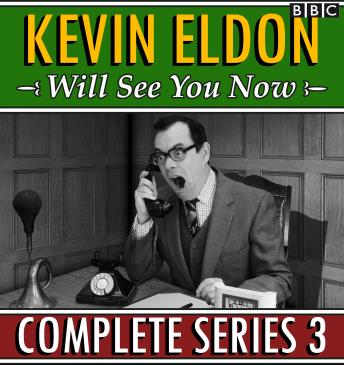 Duration:
1 hours 52 minutes
Summary:
The third series of the award-winning show.

Kevin Eldon is a comedy phenomenon. He's been in virtually every major comedy show in the last fifteen years, but not content with working with the likes of Chris Morris, Steve Coogan, Armando Iannucci, Harry Enfield & Paul Whitehouse, Stewart Lee, Julia Davis and Graham Linehan, he's also created his own comedy series for BBC Radio 4.

Also starring Amelia Bullmore (I'm Alan Partridge, Scott & Bailey), Julia Davis (Nighty Night), Paul Putner (Little Britain), Justin Edwards (The Thick Of It), David Reed (The Penny Dreadfuls) & Rosie Cavaliero (Alan Partridge, Harry & Paul), the show is written by Kevin Eldon with additional material by Jason Hazeley & Joel Morris (A Touch Of Cloth and yes, those modern Ladybird books).

In the first episode, more thrilling adventures of Commander Topper Hargreaves and his faithful dog Duke, a sneak preview of a new opera with extra wine gums, and, of course, some vitreous castanets.

In Show 2, a love song, a dead scarecrow, a Jiffy Bag and Kylie Minogue. Some owls were harmed during the making of this programme.

Show 3, and Kevin Eldon and his all-important cast return with sketches about bunnies, Beethoven, Dylan Thomas and olives. Plus we finally discover a use for avant-garde German film director Werner Herzog.

The fourth and final episode features the Napoleonic Wars, boiler parts and a nice rollercoaster …

The show comes from Pozzitive, proud producers of Cabin Pressure, Thanks A Lot, Milton Jones!, Jeremy Hardy Speaks To The Nation, The Brig Society, The Castle, Armando Iannucci's Charm Offensive & Kevin Eldon Will See You Now...
Genres: