Kid's Bible (CEV) - Lion of Judah Edition
Unabridged Audiobook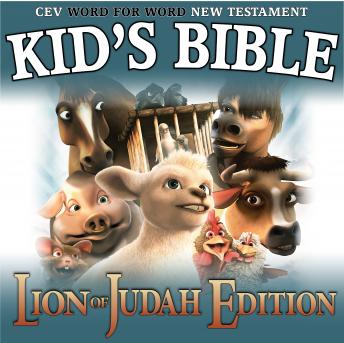 Duration:
20 hours 12 minutes
Summary:
The Kid's Bible CEV: The Lion of Judah Edition.

This Audio Bible is professionally dramatized, with sound effects, and delivers the Bible Word for Word with a cast of narrators. From Matthew to Revelation, the Bible comes to life as your child (and you) experiences all the stories like never before. Every one of these professional performers loves Jesus and desired to bring glory to Him as they present the Holy Bible. Built into this 19-hour long Audio Bible, your child will discover 103 gospel-inspired songs to help them learn Bible verses, remember the stories, and keep them entertained for hours. Songs include your favorite action, Kid's Bible, and sing-along Bible songs. The songs tie in with the adjacent scripture for easy memorization.

The entire New Testament in the Contemporary English Version (CEV) is simple and easy to understand. The American Bible Society's goal in translating the CEV version was to have an accurate version that is easy for all to read and understand in today's English.

This Kid's Bible has been paired with The Lion of Judah Storybook Audio to make an incredible value!

The Lion of Judah is the storybook from the faith-based movie that is a heartwarming adaptation of the Easter story for kids, full of exciting adventures led by a zany cast of stable animals. In this dramatized audiobook you will meet the lovable pig (Horace), the faint-hearted horse (Monty), the finicky rat (Slink), the rambling rooster (Drake), the motherly cow (Esmay), the downtrodden donkey (Jack), the heroic lamb (Judah), and other unforgettable characters!

Join Judah and the Stable-mates as they embark on a roaring adventure toward freedom. This daring quest intertwines humor and troublesome situations while delivering foundational messages with gentleness and breathtaking beauty. For Judah, a lamb with the heart of a lion, it is a story of courage that will lead you to the pivotal voyage of hope and leave you in awe of the power that one lamb can command.

Based on the movie The Lion of Judah, and featuring Kari Jobe's hit single "Carry Me", this audio storybook is a laugh-filled, heartwarming tale and is a classic for the whole family.

About the authors: Ruth Graham is the third and youngest child of Rev. Billy Graham and his late wife, Ruth Bell Graham. Ruth is founder and president of Ruth Graham & Friends, a ministry that seeks to minister God's grace and restoration to those who feel marginalized within the church and to better equip churches to address the needs of the hurting in their midst. Coauthor Mae Archila is passionate about making a difference and touching this world through her writing and her love for Jesus Christ.
About the narrator: Ron Taylor is a noted audiobook narrator. Best known as a biblical narrator and radio host, Ron is a passionate Christian who knows how the word of God changes and uplifts lives. Ron wants everyone to know the good news of Jesus. When you hear his narration, you will understand why and agree that Ron was an outstanding choice to narrate this fun and uplifting Ruth Graham book.

Cast of character voices: Ernest Borgnine (Slink), Sandi Patty (Esmay), Georgina Cordova (Judah), Anupam Kher (Monty), Omar Miller (Horace), Alphonso McAuley (Drake), Scott Eastwood (Jack), Michael Madsen (Boss), Leon Clingman (Tony), Bruce Marachiano (Jesus).
Genres: