Kiss and Tell - A collection of four erotic stories
Abridged Audiobook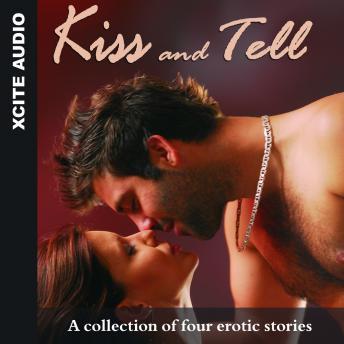 Duration:
0 hours 52 minutes
Summary:
A collection of four erotic stories with mixed and varied themes.

Kiss and Tell by Mimi Elise
It's awards night on the television, and the gorgeous actor Jonathan Grant has received a nomination. Cassie's friends make jokes about her and the supposed afternoon of passion she shared with him. Cassie recounts the only time she met Jonathan and the wondrous lovemaking they had together.

Butterscotch Drops and Caramel Cups by Izzy French
Lucy gets a job she adores; working in her favourite sweetshop. Her new boss, who she has a little crush on, offers her a little after hours training. What starts as some decadent sweet tasting turns into a decadent sex session... with some of Lucy's favourite sweets joining in too.

Private Lessons by Kristina Wright
Andrea is a mature student at the university and when it comes to the paper she needs to write, the task is to be creative in its presentation...but Andrea is no good with computers. She is put in touch with another student who offered to show her the ropes. This private lesson gave her more than she bargained for...though it was well received.

Santa's Big Helper by Lynn Lake
After having a bit of a rough time, Joy has been piecing her life back together. Currently working as an elf for Santa's grotto, she gets more than peeved when Santa keeps making passes. But when the lecherous Santa is revealed to be a luscious Sandra, things turn around for joy and Santa's grotto becomes a love nest.
Genres: