A Lacey Doyle Cozy Mystery Bundle: Murder in the Manor (#1) and Death and a Dog (#2)
A free trial credit cannot be used on this title.
Unabridged Audiobook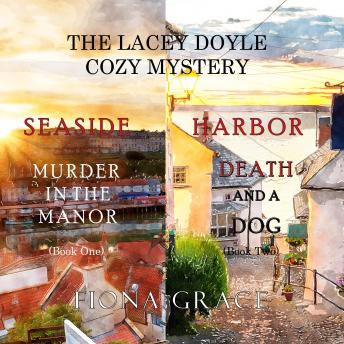 Duration:
13 hours 39 minutes
Summary:
A bundle of books #1 (MURDER IN THE MANOR) and #2 (DEATH AND A DOG) in Fiona Grace's Lacey Doyle cozy mystery series. This bundle offers books one and two in one convenient file, with over 150,000 words of reading.

In MURDER IN THE MANOR (Book #1), Lacey Doyle, 39 years old and freshly divorced, needs a drastic change. She needs to quit her job, leave her horrendous boss and New York City, and walk away from the fast life. Making good on her childhood promise to herself, she decides to walk away from it all, and to relive a beloved childhood vacation in the quaint English seaside town of Wilfordshire. Wilfordshire is exactly as Lacey remembers it, with its ageless architecture, cobblestone streets, and with nature at its doorstep. Lacey doesn't want to go back home—and spontaneously, she decides to stay, and to give her childhood dream a try: she will open her own antique shop. Lacey finally feels that her life is taking a step in the right direction—until her new star customer turns up dead. As the newcomer in town, all eyes are on Lacey, and it's up to her to clear her own name.

In DEAD AND A DOG (Book #2), spring is in the air. With last month's murder mystery behind Lacey, a new best friend in her English shepherd, and a budding relationship with the chef across the street, it seems like everything's finally settling into place. Lacey is so excited for her first major auction, especially when a valuable, mystery artifact enters her catalogue. All seems to go without a hitch, until two mysterious bidders arrive from out of town—and one of them winds up dead. With the small village plunged into chaos, and with the reputation of her business at stake, can Lacey and her trusty dog partner solve the crime and restore her name?

Book #3 in the series—CRIME IN THE CAFE—is also available!
Genres: